Renewable Natural Gas (RNG)
use is
growing
for
HGVs in the US
and much of the credit for that can be attributed to a company known as "
Clean Energy Fuels" (Clean Energy®)
.
Largest provider of natural gas fuel for transportation in North America.
Clean Energy®
is a company with a very
clear mission
. That mission is quite simply to change the way the world fuels its vehicles.
Reducing pollution from the transportation industry
is an important goal for our the US nation, and at
Clean Energy
they know just how realistic and attainable that goal is with natural gas fuel.
Quoting from their website:
"Moving forward in our thinking as well as in our vehicles means a safer, healthier planet for all of us. This change is happening. Natural gas is abundant and economically viable and is increasingly being adopted as transportation fuel by countries around the world."
Clean Energy® Natural Gas
is available at all
Clean Energy
public and private fueling stations throughout North America. Natural gas is naturally abundant across North America and is a cleaner, less expensive alternative to gasoline and diesel. Clean Energy Natural Gas is available in:
CNG (Compressed Natural Gas),
LNG (Liquified Natural Gas) and
Redeem® renewable natural gas (RNG).

Clean Energy
is currently selling
Redeem
at stations for the same price as conventional natural gas.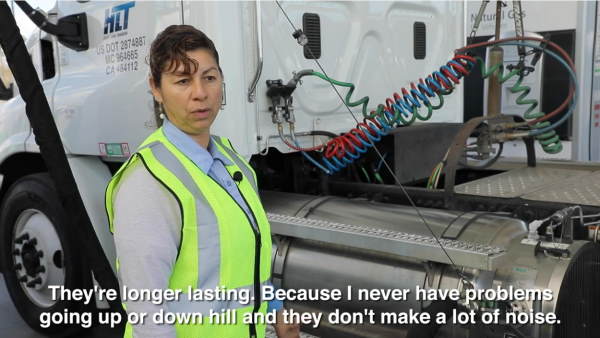 Redeem®
is described as the world's first renewable fuel made entirely from organic waste for use in commercial vehicles.
Redeem®
is a
biomethane fuel
which is
cost-efficient, and available in North America
and
up to 70% cleaner than gasoline and diesel
, making it a
smart choice for natural gas vehicle fleets
including
heavy-duty trucks
.
Clean Energy®
has seen what must surely be a golden opportunity to reduce the environmental impact of vehicle fuel use in a wonderfully pragmatic way.
Conclusion

Thanks to the efforts of six progressive harbor trucking firms that are demonstrating with today's near-zero emission natural gas trucks, that the US can slash transportation emissions immediately and cost effectively.

The result has been that:

Clean Energy is the largest provider of natural gas fuel for transportation in North America, fueling over 46,000 vehicles each day at over 530 fueling stations throughout the United States and Canada.